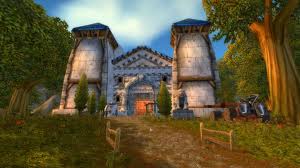 Westbrook Garrison is one of the primary training and administrative facilities of the Stormwind Army within the Kingdom of Stormwind. The keep and the surrounding wilds are frequently patrolled by soldiers of the Elwynn Brigade, and is seen as one of the most secure locations in the kingdom other than Stormwind City itself. Westbrook Garrison is in the heart of the Duchy of Westridge, which enjoys the security benefits of the army's presence there. Fully staffed with soldiers and surrounded by ballista, cannons, and other widely ranged siege equipment, Westbrook Garrison is an imposing stronghold of the kingdom.
Ad blocker interference detected!
Wikia is a free-to-use site that makes money from advertising. We have a modified experience for viewers using ad blockers

Wikia is not accessible if you've made further modifications. Remove the custom ad blocker rule(s) and the page will load as expected.