Undead are beings who have been raised into the state of Undeath. The Undead Scourge and Forsaken employ undead soldiers in their armies.
Different types of undead.
Edit
Val'kyr
Geist
Vargul
Banshee
Ghost
Shade
Undead Nerubian
Any other race risen from the dead.
Notable Undead Factions
Edit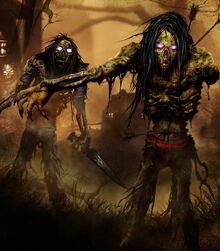 Ad blocker interference detected!
Wikia is a free-to-use site that makes money from advertising. We have a modified experience for viewers using ad blockers

Wikia is not accessible if you've made further modifications. Remove the custom ad blocker rule(s) and the page will load as expected.