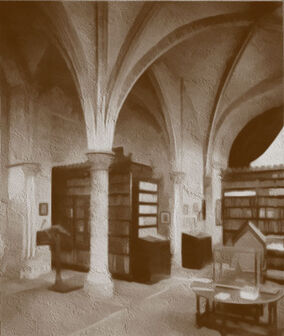 The Library of the Cathedral of Light, housed in the Transept of the Cathedral, holds an extensive collection of religious and scholarly texts. Its holdings, while smaller than the collections of the Northshire Abbey Library, include fundamental educational and Church texts as well as comprehensive collections of documents pertaining to parochial and Church organizational matters. It also includes parish annals and functional texts of the Church.
The Library of the Cathedral is open to all.  It is a popular community gathering place and is often used for meetings. The faithful can peruse the collections and obtain assistance from the many brothers and lay priests that are known to study in its halls. Knights of the Order of the Silver Hand are on guard duty to protect the library's collections and insure that its patrons can study in a safe and serene environment.
Ad blocker interference detected!
Wikia is a free-to-use site that makes money from advertising. We have a modified experience for viewers using ad blockers

Wikia is not accessible if you've made further modifications. Remove the custom ad blocker rule(s) and the page will load as expected.