Kingdom of Azeroth



Capital

Demonym

Azerothian

Government
- Ruler

Hereditary Monarchy
(See Kingdom of Stormwind)

Legislature

House of Gentry

Area (Land)

2,200 mi²

Population
(As of 592 K.C.)

350,000

Currency

Status

(See Kingdom of Stormwind)

Faction
The human Kingdom of Azeroth was the forerunner of the Kingdom of Stormwind prior to the First War and Second War, ruled over by the House of Wrynn. Its primary colors were blue, teal, red and gold, and its symbol was that of a lion. It was founded after its War For Independence fought by the Stormwind Militia and the Arathorian Empire at the start of the King's Calendar.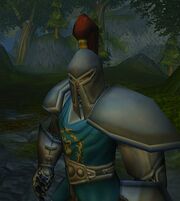 Ad blocker interference detected!
Wikia is a free-to-use site that makes money from advertising. We have a modified experience for viewers using ad blockers

Wikia is not accessible if you've made further modifications. Remove the custom ad blocker rule(s) and the page will load as expected.