The House of Reignsford



Coat of Arms

An Understated Helm of blue and gold atop a Classic Shield with a Hound imposed on an azure field. White Stag supporters flank the shield.

Words

By Skill and Valor

Seat

Piscatur's Rest, Heartsgrove (Current)

Current Head

Heir Apparent

Kaiser Reignsford (Son)

Region

Westridge

Title

Lord of Barony of Heartsgrove Knight of the Brotherhood of the Horse Ranger-knight of Rangers of Mirwood

Overlord

Duke Maxen Montclair

Founder

Thomas Reignsford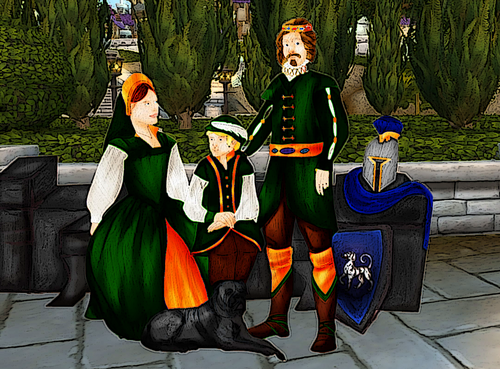 The House of Reignsford is a new House within the Stormwind House of Nobles.  It was formed and recognized shortly after the knighting of Thomas Reignsford and his induction into the Brotherhood of the Horse. 
House Reignsford rose to noble status recently when Duke Maxen Montclair bestowed upon Thomas the newly formed barony of Heartsgrove.
Current Members:
Edit
Thomas Reignsford - Founder and Current Head of House
Kaiser Reignsford - Son of Thomas and Heir Apparent
Fiona Reignsford - Thomas' younger sister
Ad blocker interference detected!
Wikia is a free-to-use site that makes money from advertising. We have a modified experience for viewers using ad blockers

Wikia is not accessible if you've made further modifications. Remove the custom ad blocker rule(s) and the page will load as expected.