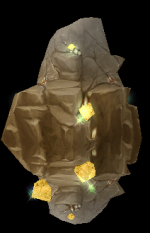 Gold is one of the most highly sought-after metals on Azeroth. Valued for its malleability and beauty, it is used as the primary currency of several nations.
Locations
Edit
Gold can be found everywhere in Azeroth, though its deposits are generally small.
While gold is greatly valued, it is not the strongest of metals.
It is most often forged into ornate jewelry and given as gifts to those of high status.
Gold is also forged into Gold Bullion or coins and is used as currency by most nations of the Eastern Kingdoms.
When used as a coloring agent, Gold can produce a deep red hue in glass.
The engineers of Gnomeregan and the Goblin Cartels have recently discovered Gold's excellent properties as a conductor of electricity.