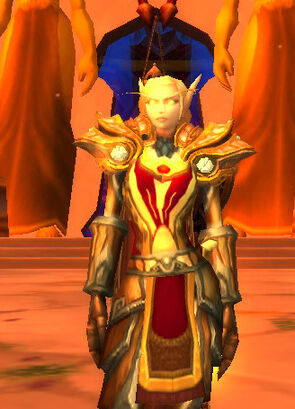 Lady Fael'Wynn Sunfury

Title(s)

The Virtuous, The Gold Knight, Knight of the 501st, Shield of Quel'Thalas, Bringer of the Dawn

House Affiliations

Dawnheart

Race

Sin'dorei

Character Class

Paladin

Affiliation(s)

Currently: Blood Knights of Quel'Thalas, The Dawnfury Concordant Former: The Sanguine Order (Commander)

Occupation

Knight-Lord of the Blood Knights Knight-Ambassador/Defender of the Dawnfury Concordant

Relative(s)

Solea Sunfury (Wife,Alive) Sartherian Morningray (Former Lover, Deceased) Lord Regalius Dawnheart (Father, Deceased) Lady Isabelia Sunrose Unknown Son (Unknown Status)

Allignment

Lawful Good
(WIP) Fael'Wynn Dawnheart is a Knight-Lady of the Blood Knight and soldier of the Dawnfury Concordant . She is humble, patient Leader and a determined, loyal follower. She serves as a Knight of Quel'Thalas, protecting it's people with pride.
Early Family History and Childhood
Edit
Write the first section of your page here.
Path of Light 
Edit
Write the second section of your page here.
Military Career
Edit
Ad blocker interference detected!
Wikia is a free-to-use site that makes money from advertising. We have a modified experience for viewers using ad blockers

Wikia is not accessible if you've made further modifications. Remove the custom ad blocker rule(s) and the page will load as expected.