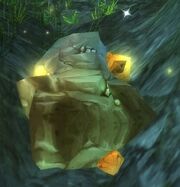 Copper is a soft, reddish-orange toned metal that is abundant throughout the world of Azeroth.
Copper is a very ductile metal that easily conducts electricity. Gnomish and Goblin engineers often use copper wires to transport electricity from one place to another.
Copper is often shaped into coins and used as a currency. The most common exchange is one hundred Copper coins for a Silver coin.
Copper can be mixed with sand, lime and natron and heated to produce Azerothian Blue dye.
Locations of High Copper Concentration
Edit